Take a Bite Out of Dark World by Night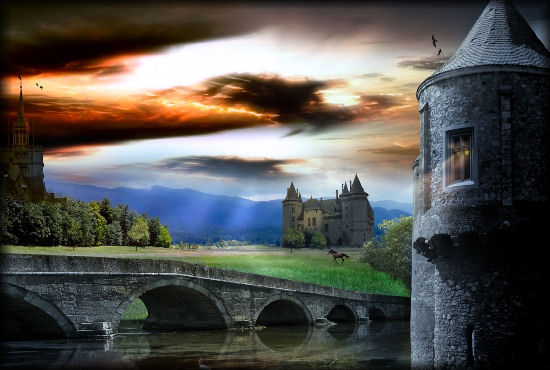 WEBMAZE Message Board | Castle MacLaaran Contact | Register To Chat | WEBMAZE Contacts
Castle MacLaaran was built in the 14th century and sits high in the beautiful mountains of Scotland upon a hill overlooking the valley below and is renowned for its friendliness and warm ambience for all who abide within and all who come to visit. As you make your way up the road you pass through a quaint village with a variety of shops and a tavern for those that might wish to stop and have a refreshing drink after their long journey. Here you will find friendly faces and happy greetings from those that work and abide in the village and cottages nearby. As you leave the village and begin your way up the drive, you will pass the Ancient MacLaaran Abby that has been in the MacLaaran Family for centuries.
As you draw closer you hear the faint sounds of bagpipes greeting you… you see our horses running in the pasture that sits just north of our newly renovated stables. Coming to a stop at the stairs you hear the music and laughter coming from within…
ROOM RULES
Our rules are simple and listed below, please read and abide by them so that your stay with us will be a pleasant one:
Castle MacLaaran is a role play room so we ask that any "out of character remarks" are discussed in the shadows.(Private Messaging)
To join the role play a character name is required. Anonymous names such as "anonymous, watcher, observer, etc" are free to observe but will not be acknowledged for role play.
As to not disrupt other's role play we ask that all sexual role play be consensual and kept in the "shadows" (Private Message).
If you are new to role play let us know, there are many here that will be happy to answer any questions you might have.
Our servants are just that, servants, and do not wear a collar as they serve the Castle out of love for their home and are free to come or go as they please. These servants will be designated by a tag "CM" and will type in lower case at all times. You will meet some servants who are privately owned and should be treated as such.
This is a site owned room and the spirit of MacLaaran is dedicated to M'Lord Kyle, who will always be a part of MacLaaran and Webmaze.
Note:This is a No Kill/No Capture area
Castle MacLaaran