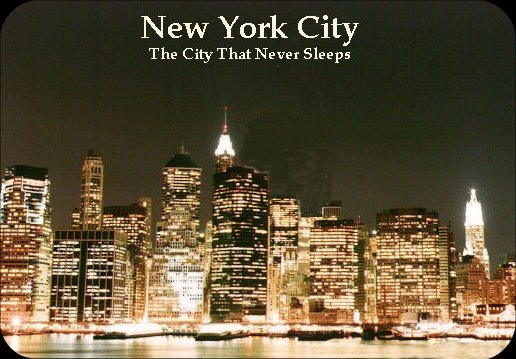 New York City
WEBMAZE City Life Message Board | New York City Message Board | Register To Chat | WEBMAZE Contacts
The role play in this room, originated by Rachel Tatellio who has since passed away, is limited to activities and story lines that might really occur in the Big Apple, a city that never sleeps and contains magnificent structures, hotels, restaurants, bars and, of course, theaters.
The one simple rule we will insist on is that the story line originator has control of the Role Playing Game (RPG). Can there be surprise moves or changes as the RPG progresses? Yes, but only after communicating with the others involved and specifically with the owners of the characters that might be affected.
We can use the Webmaze City Life message board to record all activities with synopsis posts of what happened in your character's role playing. That way everybody can follow along, even if they weren't in the room to watch the role play. Just remember, what your characters didn't see, they don't know unless another character tells them.
Be sure to check the New York Times for all the latest information and gossip. This is easily done on the room's message boards.
Look over the character list and think about what characters appeal to you. First come, first serve. Once selected and approved, your avatar will be protected. In order to keep things simple, we will have one mayor, one district attorney, two judges and six borough council people. The police commissioner and the judge are appointed by the mayor and the others are elected positions. You'll run into good guys and bad guys, cops and robbers.
Romance is a great thing, Just take the serious cybersex stuff into PM. Adding the word "censored" here is clever.
People can offer shows, singers, dancers; whatever suits the theme in the various clubs including the Four Seasons Club in Manhattan, Mahoney's Irish Pub in Brooklyn and Bergens Hunt and Fish Club in Queens.
This room is in the City Life section, so the basic guidelines there will apply. New York City is a slightly more permissive area than general chat rooms for those that prefer to hang out a tad more on the wild side, and prefer less rules. This room is not for cybersex or hard core pictures, but the occasional use of avatars showing limited nudity is permitted. While the language is unmonitored in these rooms it does not give a chatter the freedom to be rude to others.
Avatar sizes are limited to 375 pixels in height and 450 in width.
Please take the time to read the City Life Section Chat Guidelines.