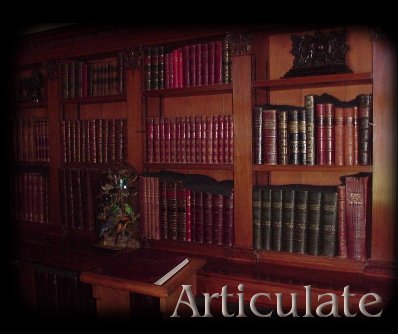 Welcome To The Articulate
WEBMAZE City Life Message Board | Register To Chat | WEBMAZE Contacts
This room is in the City Life of the General Section. While these are adult only chatrooms, your conduct is expected to be that of any adult in a public setting. The means you can not run around naked. (no nude avs) Please don't subject others to your lack of originality in your choice of words (no cussing or cursing). Keep the hanky panky in private, public sex will get you escorted from the room.
Behavior Rules are simple:
No Nudity.
No means No.
No name calling.
No arguing in public.
No harassing Chatters.
No Ghosting.
No Java or Javascript.
Avatar sizes are limited to 250 pixels in height.
You are more then welcome to use the name of Anonymous, Anony, Anon only if you are here to observe the room. If you care to join in the conversation please change the name to something the other chatters can associate you with.
Here at Webmaze we try to furnish rooms for different styles of chat, and we ask each chatter to respect the theme of the room, and conduct themselves accordingly. This room does not permit BDSM, Gor and Vampire chat or posting of pictures and Av's that reflect those styles of chat. Please look for the room for your style of chat.
Please take the time to read the City Life Section Chat Guidelines.